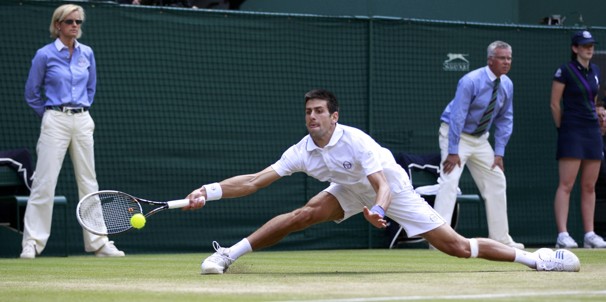 We always feel great after a win, whether it is a promotion at work, on the playing field of sport, having your proposal accepted.
What do you do after a negative event?
Your business relationship fails,
Your spouse want's a divorce,
A family member dies,
Your job is terminated?
And if you are Rafael Nadal you are beaten at  Wimbledon and lose your number 1 ranking.

Wimbledon Tennis
Novak Djokovic Australian Men's Tennis Champion
VS.
Rafael Nadal French Men's Tennis Champion
Meet at Wimbledon in the Men's Final
Mr. Djokovic's stats:
Career singles titles: 25
Current 52 week rank for singles: 2
Current 52 week rank for doubles: 244
Career matches won: 365
Career matches lost: 106
YTD matches won: 41
YTD matches lost: 1
Mr. Nadal's stats:
Career singles titles: 46
Current 52 week rank for singles: 1
Current 52 week rank of doubles: 127
Career matches won: 517
Career matches lost: 108
YTD matches won: 45
YTD matches lost: 7
Djokovic defeats Nadal 6-4, 6-1, 1-6, 6-3
My take after the match:
It was really entertaining! I was looking forward to a 5 set match being a Nadal fan. Novak Djokovic had the energy and all the momentum.
So does that make Nadal a total looser?
"It's not the event itself that does us in, it's how we perceive it."
–Dr. Karl Menninger, psychiatrist and author
Of course not, a true champion realizes that losing a match is just part of the game. The Champion will continue to work on his/her inner and outer games. The goal is to stay at the top of their form and attack when they see an advantage.
Action steps:
1. Create a Vision for yourself.
2. Write a plan of action, prioritize.
3. Live the plan as if you have become your vision.
4. Find mentors
5. Do it now!
Permission to Succeed
On Sale Now! @
Succeed Now
I am available for personal consultations, for an appointment you can reach me at: 520.977.0141
skype: zakklemmer
See you on Success Road!
Zak Klemmer
Click Here!">